Custom Calendered Rubber Products
Salem-Republic Rubber Company is a USA-based service-oriented supplier of uncured calendered rubber and polymer materials with over 40 years of experience in the rubber industry. Our scheduling and manufacturing flexibility enables unrivaled responsiveness to customer needs.
Calendered rubber and polymer / fabric sheeting is used in a broad range of industries, with each application having its own specific requirements. Salem-Republic's broad experience and knowledge insures that the calendered material will satisfy your application needs. Over the years, we have serviced almost every major rubber-related industry.
ISO 9001:2015 Certified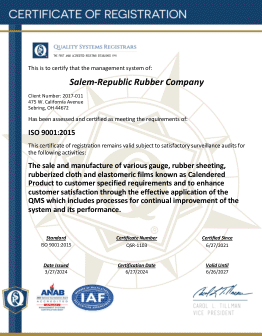 Salem-Republic Rubber is ISO 9001:2015 certified for the sale and manufacture of various gauge, rubber sheeting, rubberized cloth and elastomeric films known as Calendered Product.
Quality and manufacturing personnel worked with Quality Systems Registrars, Inc., a leading registration firm, to certify that our quality standard for calendered rubber products is compliant with standards conforming to ISO 9001:2015.
Rubber Calendering Services For Diverse Markets
Conveyor Belting
Rolled Roofing
Brake Lining
Pinch Valves
Expansion Joints
Roll Covering
Gaskets
Industrial Hose
Tire Patches
Seals
Military Applications
Graphic Arts
Sheet Rubber and Plied Fabric for Many General Purpose Molded Applications