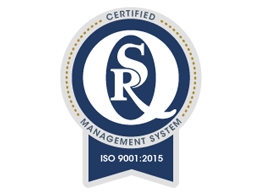 A focus on quality management is essential for almost any business to succeed. With over a million ISO 9001 certificates issued around the world, certification is no longer just for the elite or specialized; it is an essential business tool!
For this reason, Salem-Republic Rubber set out last year to achieve registration with Quality Systems Registrars, Inc., a leading registration firm, to certify that our quality standard for calendered rubber products is compliant with standards conforming to ISO 9001:2015.
We are pleased to announce that on July 6, 2018 we received our ISO 9001:2015 certificate.  The quality management system which has been certified will be used in the sale and manufacturing of close tolerance rubber sheeting, rubberized cloth and elastomeric films.