What is Rubber Calendering?
Salem Republic Rubber custom develops thin gauge, close tolerance rubber sheeting, rubberized cloth, and elastomeric films using a method known as calendering. Calendering is a mechanical process by which either plastic or rubber is pressed into textiles (cloth, fabric, tire cord) forming composite sheets.
In the calendering process, fabric and rubber or plastic material is passed through a series of rollers to flatten, smooth and commingle the two or more materials. Calendered sheets can have multiple layers of both the elastomeric and polymer "sandwiched" together.
Sheeting produced by the calender process is typically divided into two classes: either fabric inserted, or unsupported. Unsupported calender goods contain only layers of rubber or plastic that have been joined without cord, cloth or textile being inserted for strength or tear resistance. Tire cord can be used special cases; rayon, cotton, nylon, or polyester cords are arranged in parallel and bound together by rubber on a calender.
Depending upon intended use and required look or feel, the sheets of rubberized or plasticized fabric are then smoothed, glazed, polished, or given a moiré or embossed surface. The resulting surface characteristics depend on the pressure exerted by the rollers, on their temperature, composition, and surface designs, and on the type of coating or glaze previously applied to the material to be calendered. Following the calendering process the material is then wound into rolls and placed into storage.
Salem Republic rubber is a specialist in creating custom industrial rubberized sheeting for a variety of purposes. The "recipes" of fabric and rubber/plastic combinations are as varied as there are uses for the calendered sheets.
Calendered sheets of fabric and polymer can be developed from a wide variety of plastic materials. Custom formulations have been developed for specific industrial applications including resistance to specific chemicals, acid and alkali solutions. Elastomers that can be used include: natural rubber, synthetic (SBR) rubber, EPDM, Nitrile, Neoprene, Hypalon and Viton.
Thermoplastics include: Polyethylene (PE), a light, chemically- resistant thermoplastic. Polyethylene resins (HDLPE), linear low density (LLDPE) resins. Polypropylene (PP) is a light, durable thermoplastic that is denser, stiffer and stronger than polyethylene. Polyvinyl chloride (PVC) is a durable, transparent thermoplastic that is resistant to non-essential oils but cannot be exposed to some solvents. Polyvinylidene fluoride (PVDF) is a durable thermoplastic that has high resistance to chemicals and abrasion.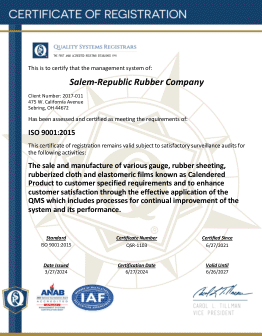 ISO 9001:2015 Certified
Salem-Republic Rubber is ISO 9001:2015 certified for the sale and manufacture of various gauge, rubber sheeting, rubberized cloth and elastomeric films known as Calendered Product.
Quality and manufacturing personnel worked with Quality Systems Registrars, Inc., a leading registration firm, to certify that our quality standard for calendered rubber products is compliant with standards conforming to ISO 9001:2015.