Custom Large OD Hose Couplings & End Constructions
We Fabricate Fittings to Any Specification, Any Standard, and Any Material Specification
ANSI/ASME, JIS, DIN PN or Custom Flange Dimension
Forged or Plate Flange
A53/A106 Seamless Pipe or Roll to Size – A36, A516gr 70, 304ss, A182 F55 etc.
A105/A105N/SA35OLF2 etc.
Lifting Lugs/Attachments to your Specifications
ASME B31.3 Section IX Certified Welders Upon Request – ALL Welding Performed by AWS Certified Welders
All Styles: Cam Lock, NPT, Built In Nipple, Rubber Lined Built In Nipples, Swaged, Crimped, Built In Rubber Flanges, Beaded End with Ductile Iron Swivel Ring
Metric Sizes Available
Epoxy Coat Exposed Steel Surfaces to your Specifications
Salem-Republic Stocks Two Types of Epoxy: Duraplate 235 Black Multi-Purpose (Marine or Industrial) and Epophen Light Gray Heat Resistant/Marine Grade
Hose Coupling and Connector Custom-Build Capabilities
Salem-Republic Rubber manufactures extremely large diameter hose and rubber pipe end points and connectors in almost limitless variations based on customer-specific needs.
To learn more about some of the customization capabilities,
click on a heading below:
End Connection Options
To best tie into your existing pipe and hose, we provide a number of termination connections: Cam Lock, NPT – National Pipe Thread Taper, Built In Nipple, Rubber Lined Built In Nipples, Swaged, Crimped, Built In Rubber Flanges, Beaded End with Ductile Iron Swivel Ring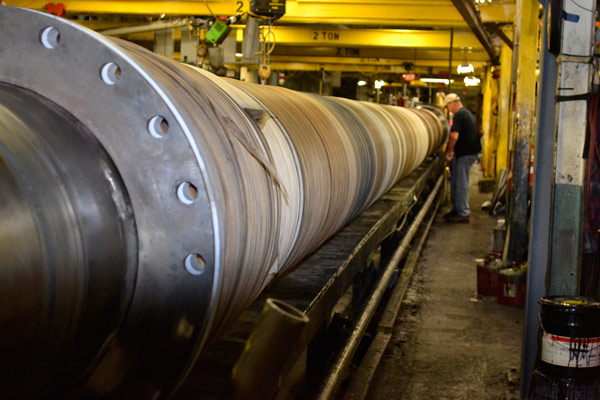 Custom Lengths / Diameters
We can produce heavy-wall, large OD diameter connector points with custom-engineered diameters to match existing process pipe or hose-to-hose connections required. I.D.'s or O.D.'s up to 42 inches.
Custom Flanges / Lift Points
Depending upon on how the hose will being handled, total hose diameter, and your service conditions, Salem-Republic's engineers help determine whether forged or plate steel flanges best meet your needs. Likewise we supply lifting lugs / attachment points to your specifications.