Dredge Hose
Salem-Republic's Dredging Hose features "customized" heavy-duty, wear-resistant constructions employing the finest grades of natural and synthetic rubber and fabric. Produced in hard and soft-wall constructions, S-R's Dredging Hose is quality-based with over 30 years of experience in handmade hose design and manufacturing.
S-R engineers and manufactures the complete hose assembly from formulation of all rubber compounds to vulcanizing the finished hose. This is your assurance that all raw materials used in production are compatible with each other and most suitable for the intended use of the hose.
If your requirements include flexibility, stability, vibration damping or resistance to abusive handling, special ends or no ends at all…. call Salem-Republic Rubber Company.
Salem-Republic… single-source dredge hose reliability.
Suction
S-R's tough hard suction hose features a custom-blended rubber lining that resists the most severe cutting and abrasive action. Spring steel helix wire with multiple synthetic textile reinforcement provides for full vacuum, kink resistance and vibration dampening.
Discharge
Hard-wall (SDH) and soft-wall (SDS) stern discharge hose are designed to meet your needs. Hard-wall where bend radius is controlled, soft-wall where kinking is unavoidable.
Sleeve
Only the best … S-R's unique construction includes use of nonwicking high tensile synthetic tire cord. Guarantees no-swell O.D. under pressure. No "ply ratings" … the number of plies stated is actual count.
Gimbals
Specifically designed to exacting specification for individual dragarm hopper dredges.
Other Uses
Custom Flange Ends
4 styles
Discharge
Type SDH
Gimbal Joint
Type SGH
Sleeves
Type SDS
Suction Dredging
Type SDH
Floating
Hose Customization Capabilities
Salem-Republic Rubber manufactures Dredge Hose in almost limitless variations based on customer-specific needs.
To learn more about some of the customized hose manufacturing capabilities we offer,
click on a heading below:
[dt_verticaltab title="Customization Capabilities"][dt_verticaltab_item title="Custom Lengths"]
Custom Lengths
We can produce heavy-wall hose and high-flexibility tubes up to 50 feet in length, with custom-engineered diameters to match existing process pipe I.D.'s or O.D.'s up to 42 inches.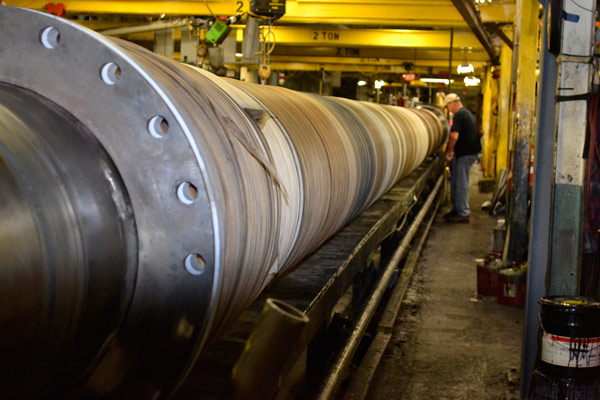 [/dt_verticaltab_item][dt_verticaltab_item title="Custom Tube Linings"]
Custom Tube Linings
Based on the types of materials that you will transfer via the hose, Salem-Republic will help you determine the best use of natural and synthetic rubber including quality custom blends.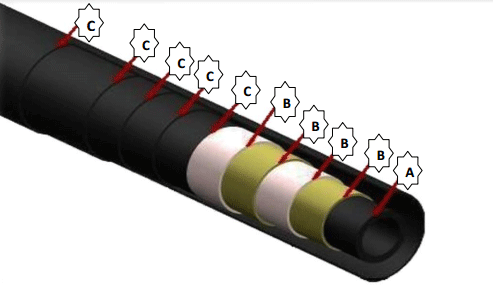 [/dt_verticaltab_item][dt_verticaltab_item title="Custom Wall Thickness"]
Custom Wall Thickness
Internal tube and supporting carcass wall thickness is determined based on the nature of specific compounds being handled, total hose diameter, and your service conditions. Salem-Republic's engineers help make these determinations after getting a description of your hose working environment.[/dt_verticaltab_item][dt_verticaltab_item title="Reinforcement Options"]
Reinforcement Options
Whether allowing for bends and turns in your process lines, or reinforced to prevent kinking, multi-ply synthetic fabrics and helically wound steel assure maximum tensile strength and ability to withstand movement and vibration in the hose made to your specifications.[/dt_verticaltab_item][dt_verticaltab_item title="Custom Cover"]
Custom Cover
From wear-resistance to chemical resistance, your hose will be manufactured to meet your specific operating situation based on the nature of specific chemical compounds being handled, and your environment. If required for simple visual identification, hose can be provided with color-coded exterior. Color coding can also include stripes to customize identification tied to your plant safety requirements.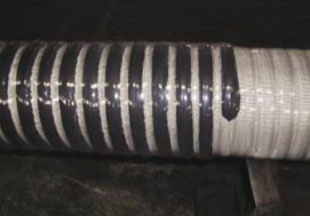 [/dt_verticaltab_item][/dt_verticaltab]