Peristaltic Pump Replacement Hoses
Custom Manufacturer
Custom manufacture allows control over all properties of the hose, the interior core (tube), carcass (exterior shell) and supporting wall thickness. Because of this, Salem-Republic offers peristaltic pump hose completely customized to accommodate specific requirements for your application. Tube linings are available in the following material choices:Natural Rubber, EPDM, Nitrile (Buna-N), or FDA Safe White & Tan Gum. For a quick quote on your custom persitaltic pump hose needs, please submit a custom peristaltic pump hose RFQ.
Meet Demanding Application Requirements
Peristaltic pump hose life is affected by 3 areas: the pump conditions, quality of the hose and the material moving through the hose.
Our "No-Crush" poly carcass is constructed using multiple plies of high tensile polyester cord. A smooth, precision ground concentric cover insures optimum performance and in-service life in the most demanding applications including pumping adhesives, starch, chemicals, pulp/papermaking slurries, lubricants, and food oils, waste & water treatment.
Off-the-shelf Drop in Replacements
Salem-Republic manufactures peristaltic pump hoses compatible with all major manufacturers, including Periflex, Watson-Marlow / Bredel, Verder, Blackmer, and Ponndorf. Please visit our Peristaltic Hose Cross-Reference Chart to find the Salem-Republic peristaltic pump hose that matches the part number of a different manufacturer.
Available both to OEM hose pump manufacturers and end users of peristaltic devices, replacement hoses range from 10mm to 150 mm and are available in the following dimensions:
Metric Measurements
U.S. Measurements
RFQ
ID (mm)
OD (mm)
Overall Length (mm)
ID (in)
OD (in)
Overall Length (in)
10
31.0
508
.39"
1.22"
20"
Send RFQ
15
36.0
732
.59"
1.42"
30"
Send RFQ
25
53.2
1006
.98"
2.09"
39.5"
Send RFQ
32
61.0
1251
1.26"
2.40"
44.0"
Send RFQ
40
66.4
1489
1.57"
2.61"
58.7"
Send RFQ
50
80.0
1821
1.97"
3.15"
71.6"
Send RFQ
65
99.2
2337
2.56"
3.91"
92.0"
Send RFQ
80
122.0
2781
3.15"
4.80"
109.4"
Send RFQ
100
144.0
3277
3.94"
5.67"
128.7"
Send RFQ
Service life conditions that can adversely affect hose life include high concentrations of harsh corrosive acid, alkali and high temperature applications typically found in adhesives, starch, chemicals, pulp/papermaking, lubricants, fluids and oils, and waste & water treatment applications. Salem-Republic Rubber manufactured peristaltic hose stands up to these conditions and more.
Peristaltic Pump Hose Tolerance Guide
Rapid Custom Build Time
Salem-Republic can often manage the most demanding time schedules for non-standard or custom-built hose. Call us today or submit a peristaltic pump hose RFQ for a quick quote.
Common Questions About Peristaltic Pump Hose
Q: What does the cover of our peristaltic pump hose look like?
A: Following vulcanizing it is lath ground with a smooth finish.
Q: What pumps will your stock hose fit?
A: Watson-Marlow / Bredel, Blackmer, Verder, Ponndorf, PeriFlo, and others.
Q: What are the most common sizes of peristaltic pump hose?
A: 10mm, 15mm, 25mm, 32mm, 40mm, 50mm, 65mm, 80mm, and 100mm.
Hose Customization Capabilities
Salem-Republic Rubber manufactures Peristaltic Pump Hose in almost limitless variations based on customer-specific needs.
To learn more about some of the customized hose manufacturing capabilities we offer,
click on a heading below:
[dt_verticaltab title="Customization Capabilities" nav_position="left" spy="none" scroll_delay="300″][dt_verticaltab_item title="Custom Lengths"]
Custom Lengths
We can produce heavy-wall hose and high-flexibility tubes up to 50 feet in length, with custom-engineered diameters to match existing process pipe I.D.'s or O.D.'s up to 42 inches.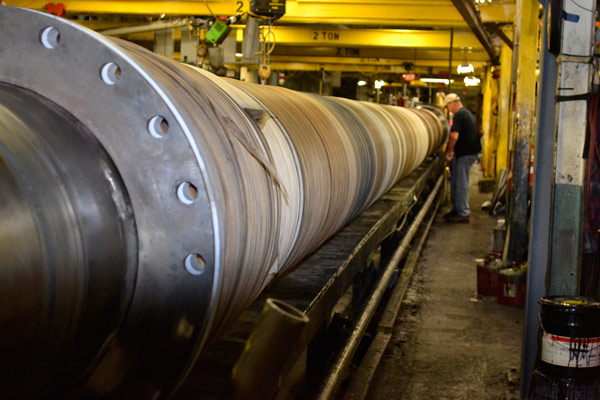 [/dt_verticaltab_item][dt_verticaltab_item title="Custom Tube Linings"]
Custom Tube Linings
Based on the types of materials that you will transfer via the hose, Salem-Republic will help you determine the best use of natural and synthetic rubber including quality custom blends.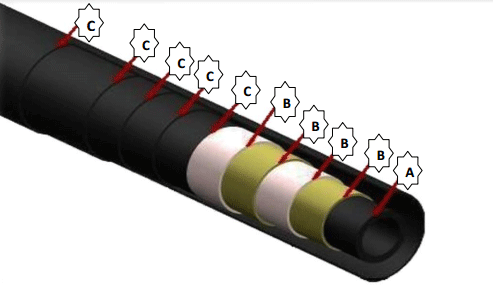 [/dt_verticaltab_item][dt_verticaltab_item title="Custom Wall Thickness"]
Custom Wall Thickness
Internal tube and supporting carcass wall thickness is determined based on the nature of specific compounds being handled, total hose diameter, and your service conditions. Salem-Republic's engineers help make these determinations after getting a description of your hose working environment.[/dt_verticaltab_item][dt_verticaltab_item title="Reinforcement Options"]
Reinforcement Options
Whether allowing for bends and turns in your process lines, or reinforced to prevent kinking, multi-ply synthetic fabrics and helically wound steel assure maximum tensile strength and ability to withstand movement and vibration in the hose made to your specifications.[/dt_verticaltab_item][dt_verticaltab_item title="Custom Cover"]
Custom Cover
From wear-resistance to chemical resistance, your hose will be manufactured to meet your specific operating situation based on the nature of specific chemical compounds being handled, and your environment. If required for simple visual identification, hose can be provided with color-coded exterior. Color coding can also include stripes to customize identification tied to your plant safety requirements.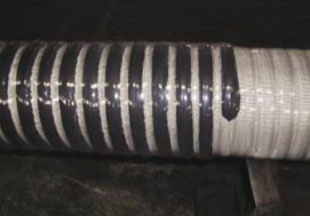 [/dt_verticaltab_item][/dt_verticaltab]