Acid Resistant Hose / Chemical Transfer Hose
Hose designed specifically to carry highly acidic, alkaloid or otherwise corrosive liquids are par for the course in industrial and manufacturing environments. At Salem-Republic Rubber, we manufacture Chemical Resistant Hose in almost limitless variations. Our engineers and sales staff begin by helping assess of chemicals your hose will transmit and come in contact with. We then create hose based on our broad range of alkali and acid-resistant tube/carcass/cover materials to stand up to most corrosive fluids. Your chemical-safe hose is further custom engineered to optimize material gauges and overall wall thickness based on your operating environment.
Tube and cover polymers include pure gum rubber, styrene-butadiene rubber (SBR), Hypalon®, neoprene, nitrile, butyl, EPDM, Viton® and polyethylene.
Any of our custom built hose can be manufactured with color-coded exterior. Color ID applications include modifying the cover or incorporating stripes to meet your particular plant production identification requirements.
Cross-Linked Polyethylene Acid / Chemical Transfer Hose
S-R Hand-Wrapped Cross-Linked Polyethylene hose is the most versatile of medium priced hose. It is capable of handling over 90% of industrial chemicals with the exception of strong oxidizing acids. A high tensile wire helix makes a rugged and highly flexible hose outstanding for both suction and discharge service. The clear, largely inert cross-linked polyethylene tube will not interact with most chemical products, thereby avoiding product contamination. Hence, the XLPE tube eliminates need and extra expense of specialized hoses for processing, loading, and storage service. Use S-R's XLPE hose for service to 140°F. Its green Hypalon® cover with bright yellow stripe easily identifies this hose.
Abrasion & Ozone Resistant
The Hypalon® cover protects the body from the stiffening and cracking caused by ozone and UV. It also adds abrasion resistance for extended hose life.
Non-Kinking
S-R's unique handmade hose features high tensile helix wire for strongest construction, which permits shortest bend radii while assuring full vacuum service without kinking.
Multi-Ply Acid Discharge Hose
Designed to handle most of the common acids and alkali solutions under pressure. S-R's acid discharge hose features softwall construction available with tube and cover compounds shown above. Standard gauges are 1/8″, 3/16″ and 1/4″.
Multi-Ply Acid Suction Hose
This hose features a high-tensile spring steel wire helix to prevent collapse under vacuum. Smooth seamless 3/16″ or 1/4″ tube thickness is standard with heavier gauges available upon request.
Other Uses
Acid Discharge
Acid Suction & Discharge
"Bird" Filter
Black & White Liquor Hose
Hose Customization Capabilities
Salem-Republic Rubber manufactures Chemical Resistant Hose in almost limitless variations based on customer-specific needs.
To learn more about some of the customized hose manufacturing capabilities we offer,
click on a heading below:
[dt_verticaltab title="Customization Capabilities" nav_position="left" spy="none" scroll_delay="300″][dt_verticaltab_item title="Custom Lengths"]
Custom Lengths
We can produce heavy-wall hose and high-flexibility tubes up to 50 feet in length, with custom-engineered diameters to match existing process pipe I.D.'s or O.D.'s up to 42 inches.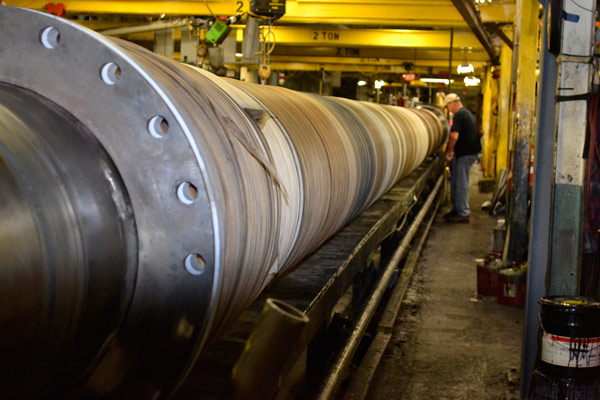 [/dt_verticaltab_item][dt_verticaltab_item title="Custom Tube Linings"]
Custom Tube Linings
Based on the type of chemical or chemicals that you will transfer via the hose, Salem-Republic will help you determine the best use of natural and synthetic rubber including quality custom blends.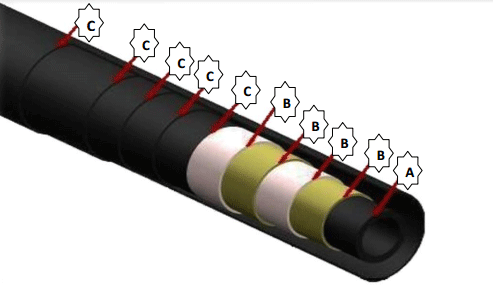 [/dt_verticaltab_item][dt_verticaltab_item title="Custom Wall Thickness"]
Custom Wall Thickness
Internal tube and supporting carcass wall thickness is determined based on the nature of specific compounds being handled, total hose diameter, and your service conditions. Salem-Republic's engineers help make these determinations after getting a description of your hose working environment.[/dt_verticaltab_item][dt_verticaltab_item title="Reinforcement Options"]
Reinforcement Options
Whether allowing for bends and turns in your process lines, or reinforced to prevent kinking, multi-ply synthetic fabrics and helically wound steel assure maximum tensile strength and ability to withstand movement and vibration in the hose made to your specifications.[/dt_verticaltab_item][dt_verticaltab_item title="Custom Cover"]
Custom Cover
From wear-resistance to chemical resistance, your hose will be manufactured to meet your specific operating situation based on the nature of specific chemical compounds being handled, and your environment. If required for simple visual identification, hose can be provided with color-coded exterior. Color coding can also include stripes to customize identification tied to your plant safety requirements.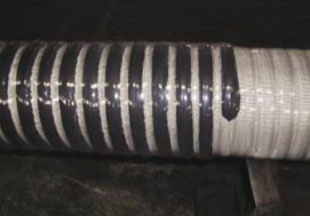 [/dt_verticaltab_item][/dt_verticaltab]