Tank Truck Gravity Drop Hose
LCD™ Glide Flex Gasoline Drop Hose
Introducing the remarkable new patented LCD™ Glide-flex Gasoline Drop Hose from Salem-Republic Rubber Company. Our breakthrough Low Coefficientz of Drag (LCD™) technology produces a durable, flexible, and lightweight hose unparalleled in the gasoline transport industry.
Traditional rubber hose is heavy and hard to handle. Plastic hose is stiff and difficult to maneuver, especially in cold weather. LCD™ Glide-Flex solves these problems with a patented LCD™ cover design, making it the easiest handling gravity drop hose available.
Due to its Low Coefficient of Drag, this unique hose glides easily over surfaces where rubber hose grabs. Additionally, the LCD™ cover outwears conventional rubber hose with significantly improved abrasion resistance.
The revolutionary LCD™ Glide Flex Gasoline Drop Hose maintains its flexibility and ease of handling even in sub-zero temperatures, where plastic hose becomes brittle and hard to bend. Furthermore, its lightweight and friction-minimizing design reduces driver fatigue when compared to traditional hose.
The LCD™ GLIDE-FLEX combines a lightweight design with a low coefficient of drag cover and extreme flexibility – providing easier connections, reduced driver fatigue, and overall improved performance.
| Size I.D. | Weight Per Foot | Maximum Length |
| --- | --- | --- |
| 3.0" | 1.17# | 50'0" |
| 4.0" | 2.0# | 50'0" |
NOTE: LCD™ Glide-Flex is designed for Gravity Drop Service Only
For more information and complete pressure service recommendations, call us today at 1-877-425-5079.
Other Uses
Pit Refueling – Indy racing fuel
Petroleum – drop hose, 150 psi transfer, vapor recovery
LCD™ Glide-Flex Gasoline drop hose
Hose Customization Capabilities
Salem-Republic Rubber manufactures Tank Truck Gravity Drop Hose in almost limitless variations based on customer-specific needs.
To learn more about some of the customized hose manufacturing capabilities we offer,
click on a heading below:
Custom Lengths
We can produce heavy-wall hose and high-flexibility tubes up to 50 feet in length, with custom-engineered diameters to match existing process pipe I.D.'s or O.D.'s up to 42 inches.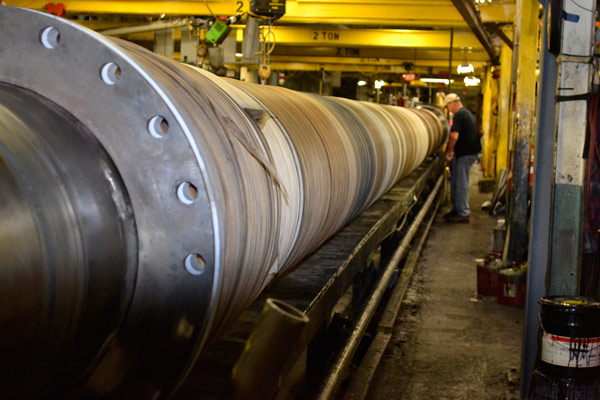 Custom Tube Linings
Based on the types of materials that you will transfer via the hose, Salem-Republic will help you determine the best use of natural and synthetic rubber including quality custom blends.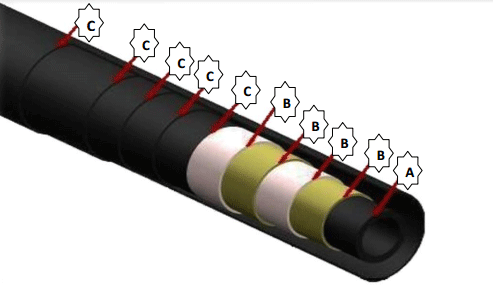 Custom Wall Thickness
Internal tube and supporting carcass wall thickness is determined based on the nature of specific compounds being handled, total hose diameter, and your service conditions. Salem-Republic's engineers help make these determinations after getting a description of your hose working environment.
Reinforcement Options
Whether allowing for bends and turns in your process lines, or reinforced to prevent kinking, multi-ply synthetic fabrics and helically wound steel assure maximum tensile strength and ability to withstand movement and vibration in the hose made to your specifications.
Custom Cover
From wear-resistance to chemical resistance, your hose will be manufactured to meet your specific operating situation based on the nature of specific chemical compounds being handled, and your environment. If required for simple visual identification, hose can be provided with color-coded exterior. Color coding can also include stripes to customize identification tied to your plant safety requirements.